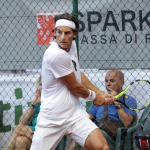 Résumé
My name is Alexander Weis, i'm 24 years old and a professional tennis player from Italy, actually ranked 479 ATP in singles
Description
Mi chiamo Alexander Weis, ho 23 anni, sono nato e vivo a Bolzano.
Sono un tennista professionista attualmente 479 ATP. Mi alleno a Milano presso la Milago Tennis Academy.
La mia attività prevede tornei internazionali che mi portano a viaggiare ogni settimana in Europa e nel mondo.
Il mio impegno è molto serio, ho l'obiettivo di elevare la mia classifica ed entrare nel circuito Challenger.
Ho allenatori molto validi che mi seguono con grande attenzione e credono in me.
Un possibile aiuto della vostra azienda sarebbe molto importante per la mia attività e renderebbe il vostro marchio estremamente visibile sia per i miei continui spostamenti in Europa e nel mondo che per la mia presenza sulle reti sociali.
Qualora foste interessati, sono disponibile per un incontro in modo da potermi presentare e descrivervi il mio impegno sportivo.
Utilisation du sponsoring
It would be a tremendous help, as the travel, coaching staff and equipments costs are all on ourselves. The yearly expenses vary around 25.000/30.000 Euros a year and the prize money we win as professional tennis players outside the Top 150 ATP is not enough to cover all our costs.
Accès / Liens
Les plus grands succès
Winner in M15 Girona-Spain
Finalist M25 Bolzano-Italy
6 times Finalist in M15 tournaments
3 times Semi-Finalist in M25 tournaments
Chiffres clés des sponsors
https://www.atptour.com/en/players/alexander-weis/wb19/overview
https://www.ubitennis.com/blog/2021/10/26/mondo-futures-finalmente-alexander-weis/
https://www.spaziotennis.com/interv/weis-alexander-intervista-tennis-hockey/43868
Profils connectés
Tennis Club Bolzano

(Club)
Fancybox.bind("[data-fancybox]", { // Your custom options });