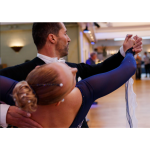 Résumé
we need financial support to get to the german and european championships. T
Description
We are hot, very ambitious, and train with the best!
For 2 years we have been training with the reigning Vice World Champions in Professional Standard Ballroom Dancing as well as a multiple German Champion.
usually 1 - 2 years in each starting class
Standard class D: 4 months
Standard Class C: 5 months
Standard Class B: 17 months (due to Corona Lockdown)
Standard Class A: 3 months, our current starting class
We need financial support to get to the German and European Championships.
Notre sponsor préféré
Total danced tournaments: 76, Therefore 1st place achieved: 26, - Therefore championship titles won: 6, Therefore international danced tournaments: 1 (WDSF out of 92 couples, place 58)
Chiffres clés des sponsors
instagram profle biancaroetti since couple of month
we drive to every competition in Germany, you can have a look into: danceportinfo.net
we would like to go to the German- and European Championships.
Fancybox.bind("[data-fancybox]", { // Your custom options });