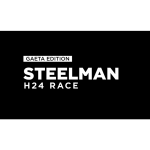 Résumé
STEELMAN H24 RACE™ is a 24-hour race that tests all of an athlete's abilities: endurance, maximum strength and psychological capacity.
Description
Hello, I am Michele Cappa founder of STEELMAN H24 RACE™. After the great success of the first edition, we are confident in your interest in supporting the next Italian stage in 2023, exact stage because we are structuring the foundations of the franchise, with European purpose then International starting from 2024/2025.
STEELMAN H24 RACE™ is a never-before-created 24-hour race that tests all the capabilities of an athlete: endurance, maximum strength and psychological capacity.
The race is divided into 8 events with 7 different disciplines, from 6 am in the morning to 6 am the next day. Each event is followed by a break where Athletes can rest, integrate and psychologically prepare for the next event.
The new edition will be held on May 27/28, 2023 in the scenery of Gaeta, in an area of about 5000 square MT in the center of the city, between the sea and the mountains.
Looking forward to your kind feedback, below you can view our mini documentary, enjoy: https://www.youtube.com/watch?v=N2jqMxD5DD4&t=527s
Notre sponsor préféré
Having 7 different disciplines within, we are looking for partners who want to increase their visibility or tie up with us for a long-term path, given the potential of this format, which can be replicated anywhere in the world.
Accès / Liens
Les plus grands succès
Data extracted from social channels before, during and after the first edition:
89,486 thousand Instagram accounts reached
655,179 thousand impressions reached on Instagram
1000 people live audience on Instagram
Men 68% Women 32%
Average age of visitors 25-34 years old
Età media visitatori 25-34 anni
Chiffres clés des sponsors
Currently, we have been featured in 7 online registered newspapers, with several articles and we have been featured in the program "Tu si que Vales" on channel 5 ( Mediaset ) in October 2022, invited by the production after raising an interest in this new sports format, completely made in Italy.
Data extracted from social channels before, during and after the first edition:
89,486 thousand Instagram accounts reached
655,179 thousand impressions reached on Instagram
1000 people live audience on Instagram
Men 68% Women 32%
Average age of visitors 25-34 years old
Età media visitatori 25-34 anni
Sponsors
Fancybox.bind("[data-fancybox]", { // Your custom options });