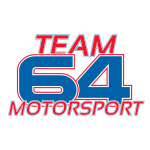 Résumé
Team 64 Motorsport are a professional racing team competing in the premier class of the British Superbike championship.
Description
Team 64 are a dedicated, professional team who have focused on fielding one bike and rider in the British Superbike championship for over ten years. BSB is the third largest motorcycle racing series in the world, with a large and growing following. We can offer you an opportunity to advertise to 8 million TV viewers and 500,000 spectators and enjoy an incredible hospitality experience.
Notre sponsor préféré
An ideal opportunity for a company seeking national exposure and a unique and memorable hospitality experience.
Would also suit a motorcycle racing fanatic wanting to get involved.
Utilisation du sponsoring
The TV coverage is superb for brand promotion and tens of thousands of spectators will see your brand. With live, paid for and free-to-view coverage up to 28 hours per round.
The hospitality element can be highly effective in generating new business and rewarding existing clients. We race at the best circuits all over the UK so your guests will have a local round they can come to.
Involvement in such a high profile competition can be an invaluable marketing tool
Chiffres clés des sponsors
8 million TV viewers and growing
500,000 spectators
33 races over 11 rounds
Unparalleled guest access and hospitality