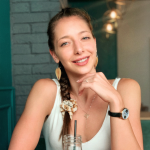 Kurzbeschreibung
I am a national athlete of aerobic gymnastics. Being an inspiration for people is my motivaion for working as hard as i can.
Beschreibung
Hello,my name is Darina Pashova.
I am a national athlete of Aerobic Gymnastics in Bulgaria. During the years i have won a lot of competitions but i will mention most important of them in a chronological way:
I am:
Vice World Champion in Juniors 2016 individual women category (Incheon Korea)
Vice European Champion in Groups 2019 (Baku,Azerbaijan)
Third place at the Europen Chapionship Individual women category 2019 (Baku,Azerbaijan)
Vice Champion a the European Games 2019
Vice World Champion in Individual women category 2021(Baku,Azerbaijan)
World Champion 2021 in Trios category (Baku,Azerbaijan)
As a person i am very abitious, organized, inspiring and charismatic person. My whole life was studying and training, even now when i am studying computer systems and technologies i am still in the elite of aerobic gymnastics and writing history of this sport. As an elite sportsman i would like to continue training so that i will be motivating the young generation to train and have a healhy lifestyle which is very important nowadays.
As an aerobic gymnast i have my own style which is elegant and at the same time very dynamic, i will add links to show .
I am a person with a strong will and i know how to find the exact approach in different situations.
During the years me and my teammates achieved these successes ot the basis of countless hours of traings, blood and sweat. Unfortunately, training, dedication to sport and the glorification of the country could't be our way of living and we had to work in our free time which is not so much. To be honest if you want to acheive the top of your sport you have to train at least from 5 to 6 hours per day, so i think it's useless saying how much time we have for working in our "free time".
To sum up every proffecional athlete should have the chance to complete their dreams. So if my personality and acheivements are interesting and inspiring for some of you i will be glad to share a lot more.
Unser idealer Sponsor
An ideal sponsor would be anyone who can give any kind of support from advertising any brand to full sponsorship.