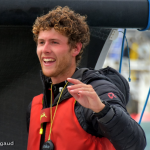 Sommario
Elite offshore sailor competing in one of France's largest sporting events, La Solitaire du Figaro & French Elite Offshore Championship
Descrizione
Offshore racing is different to every other sport on the planet, both in the way in which the story is told and the nature of the story itself, tales of individuals passing incredible exhaustion, fixing seemly insurmountable problems and even the difficulties faced trying to eat while going fast
With the ability to send footage live off the boats from anywhere in the world; to call in to the boardroom whilst in the remotest parts of the Southern Ocean; or to update a school on what was had for breakfast after days at sea inspires even those with no knowledge of port or starboard.
The 'hands on' opportunities are extensive, with the ability to take VIPs sailing on board the actual race boats, leaving even the most spoilt corporate hospitality guest with a smile on their face. The opportunity to inspire a workforce through teamwork and leadership mentoring is second to none.

Sponsor desiderato
I would like to focus the campaign around businesses that are environmentally conscious and socially aware.
Utilizzo della Sponsorizzazione
By supporting my campaign, I would look to promote your brand through both traditional media activation strategies and through some more dynamic methods. This could incorporate sailing days to build and refine relationships with clients and partners. These days could also be used for team building.
In addition to which we could create some cutting edge product photography, to highlight your products in an incredible setting.
Furthermore, we could create interactive pop-up events, in spectacular locations such as in Bordeaux or London.
With the possiblity to name the boat after your business and utlise the 40m2 of mainsail area and 105m2 of spinnaker area for you to use as a blank canvas to create a moving banner to show off your incredible products and services.
Fancybox.bind("[data-fancybox]", { // Your custom options });