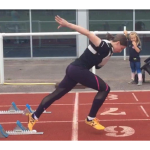 En Breve
T46 Nationally Classified Para Athletics Athlete. In my 4th year of training and hitting National and World Championship Standards. Classifying Internationally in 2023. Currently number 1 in the UK, aiming for Paris Paralympics 2024.
Descripción
Just 4 years into the sport after being injured while serving in the British Army, already I have competed in the Invictus Games Sydney 2018, achieving 2 silver medals.
I am currently number 1 in the UK for my primary distance of 400m and would sit number 2 in Europe when classified internationally in 2023.
I have finished work to focus on achieving Paris Paralympics 2024, I have a professional coach as well as a club coach and train at Loughborough with Paralympic athletes.
During my time with the Invictus Games I gained local and national recognition, I have maintained those links and give regular interviews on BBC Radio Lincolnshire.
Datos principales para patrocinadores
Currently Facebook with an aim for more platforms.
Local competitions through 4-5 months of the year with an attendance of approx 400. National and Internationa invitation only competitions with media attendance 2-4 times a year.
Links with local media
Potential involvement in 2023 with the Invictus Games which has a very large audience and media coverage over a 6-12 month period.