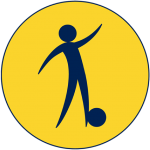 En Breve
Gallini Cup is the largest elite youth football tournament in Italy.
Descripción
Gallini Cup hosts thousands of young players from every Continent, with unconditional spirit of welcome and brotherhood, becoming the largest and most prestigious football tournament in Italy;
Gallini Cup is a truly unique experience for coaches and players. A gathering of cultures, united for a week to play football in a safe and vibrant atmosphere;
More than 150 former players of Gallini Cup have reached the best European leagues;
With 25 years of experience and a long list of references, Gallini Cup is a very trustable partner;
Gallini Cup is a family business. The tournament is managed by Tiziano Cornacchia with his sons Stefano and Matteo, and the support of the all family since 1999;
By sponsoring our event, your brand will be associated to the happy memories of thousands teenagers and families;
Gallini Cup is organized in order to honor the memory of Franco Gallini, the creator of the NGO Via di Natale ONLUS, that assist terminally ill cancer patients and their families in a Home operating in Aviano, near the Oncological Reference Center. Part of the sponsorships go to them, every year.
Fancybox.bind("[data-fancybox]", { // Your custom options });