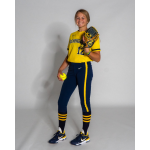 En Breve
I am currently a Junior pitcher at the University of Michigan. I love exploring new places and especially like to hike, bike and kayak in the summer.
Descripción
When expanding to female athletes, I think it is valuable to understand that we are powerful athletes too. We prepare just as much as male athletes and don't get all the same opportunities. I believe female athletes should get the same opportunities, as we could have a different target audience to promote different brands. As for me, I am very organized and love to plan out events and trips. One of my favorite things about family vacation is planning out the whole week. I find joy in being organized and would love to be a sponsor for your company. This last year, I transferred from Kent State University to the University of Michigan. I am currently a junior pitcher and am looking forward to playing in the BIG10.
Datos principales para patrocinadores
Instagram followers: 1,538 with 68 posts
Twitter followers: 307
Twitter engagement: Posted my commitment to University of Michigan, it reached 11,027 people with 2,020 engagements and 589 profile visits.
Audience per event: over 100 people, as I could host events on campus
TV coverage: CBS, FOX, NBC, Peacock, Big ten network, and FS1
Fancybox.bind("[data-fancybox]", { // Your custom options });