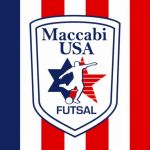 Sommario
National teams competing in the third largest sports event in the world. Composed of the highest caliber Jewish athletes from across the USA
Descrizione
We are seeking sponsors for our international club, which competes in the World Maccabiah Games (the third largest sports event in the world). Our ever expanding club includes former and current professional soccer and futsal players, with multiple players seeking placement on the USA national futsal team. The club has grown in recent years to include U-16, U-18, Men's, Women's and Master's teams, and continues to expand by competing in national futsal tournaments across the USA, as well as the Pan-American and European Maccabi Games.
In addition to opportunities to partner with us on the court, we are seeking sponsors to help us grow the sport of futsal by organizing clinics to support youth futsal initiatives promote diversity and tolerance in futsal and soccer around the globe.
Parent Organization Mission: Maccabi USA builds Jewish pride through sports and promotes support for Israel, Zionism, and Jewish continuity through athletic, educational, and cultural experiences for participants of all ages.
About the Maccabi Games: The Maccabiah Games, sometimes referred to as the "Jewish Olympics", first held in 1932, are an international Jewish and Israeli multi-sport event held quadrennially in Israel. The Maccabiah Games are open to Jewish athletes from around the world, and to all Israeli citizens regardless of their religion. It is the third-largest sporting event in the world by number of competitors, with 10,000 athletes competing (after the Olympics and the FIFA World Cup). The Maccabiah Games were declared a "Regional Sports Event" by, and under the auspices and supervision of, the International Olympic Committee in 1961.
Reach / Links
Dati fondamentali per gli sponsor
Key Members of the club:
Matt Fondy @mfondy (on Instagram) - Former player for Chicago Fire and Chivas in MLS and multiple teams in the USL.
Guy Abend @guyabend (on Instagram) - Former USL player for Louisville, Reno and Saint Louis, played professionally in Israel
Tyler Weiss @tylerweiss12 (on Instagram) - United Soccer Coaches 30 under 30 (for one of the 30 best coaches under 30 in the USA)
Tiago Feler @tiagofelerr (on Instagram) - invitee to the USA National Futsal Camp
Ethan Clearfield @eclearfield925 (on Instagram) - invitee to the USA National Futsal Camp
Fancybox.bind("[data-fancybox]", { // Your custom options });