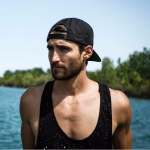 Kurzbeschreibung
I see the world through the eyes of a freerunner. Stuntman x Freerunner. Fueled by plants.
Beschreibung
THE LIFE OF A FREERUNNER
I'm passionate about movement and sports, and with Parkour/Freerunning in specific. I have been active as a freerunner since 2003. Freerunning also brought me to Los Angeles: After graduating from college in Virginia, I moved to LA to found Tempest Freerunning. Tempest Freerunning's mission is to share our passion for the sport, and to advance freerunning with our team of international sponsored athletes, innovative academies, and trendsetting apparel. We're proud to infuse a bit of the Los Angeles lifestyle and creativity into the sport.
I have been blessed to showcase my freerunning experience in many Hollywood films and to compete, judge, and coordinate many international freerunning competitions such as Red Bull Art of Motion, Jump City Seattle, Sasuke, American Ninja Warrior and the World Freerunning Championships. As a stuntman, I had the opportunity to double actors such as Adam Sandler (You Don't Mess with the Zohan), Henry Cavill (Superman double, Man of Steel), Paul Walker (Fast Five), and Robert Pattinson (Twilight).