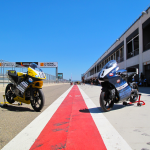 En Breve
We are Polimi Motorcycle Factory, Politecnico di Milano motorcycle racing team and MotoStudent World Champion 2018 Petrol.
Descripción
Polimi Motorcycle Factory is a young, tenacious and enterprising reality, which shares spirit of innovation of the Politecnico di Milano, a reality that allows student to grow together in an environment that is both educational and competitive. As a result of this, we manage to become world champions of the MotoStudent university championship in 2018, and to win the Best Industrial Project award for the electric prototype in 2021.
Sponsoring a university team like ours means believing in the potential of those who will be the engineers and designers of tomorrow, actively and personally contributing to their training through dialogue, support and mutual help.
Alcance / Enlaces
Mayores Éxitos
MotoStudent V Edition - 2018:
Petrol Category - MS1:
2° MS1 - Best Design, Best Innovation, Business Plan
1° MotoStudent Petrol MS1+MS2
Petrol Category - MS2:
1° MS2 - Petrol dynamic test e 1° first place
1° Best Acceleration: 6,966"/150 m
Top Speed: 197,1 km/h
2° Best Mechanical Test 0' 28" 400
MotoStudent VI Edition - 2021:
Petrol Category - MS1:
2° Best Industrial Project
2° Best Innovation
3° Best Design
Petrol Category - MS2:
3° Best Acceleration: 7,24"/150 m
3° Top Speed: 196 km/h
Electric Category - MS1:
1° Best Industrial Project
2° Best Innovation
2° Best Design
Electric Category - MS2:
1° Best Acceleration: 6,12"/150 m
1° Top Speed: 212 km/h