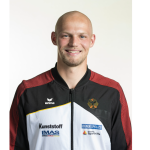 Résumé
Tim Hecker, 24 years old, from Berlin, canoe and racing athlete, Olympic Bronze Medalist
Description
Since 2007, I have been practicing canoeing and racing. Last year I finally fulfilled my biggest dream: The Olympic Games.
In Tokyo 2020, I started with the three-time Olympic champion Sebastian Brendel. In the semi-finals of the 1000-meter distance Canadian two-man we were able to break an Olympic record, which was once again beaten in the final. We crossed the finish line in third place in a race that has never been faster. I'm incredibly proud of it.
Why should you support me?
Canoe racing has always been a niche sport that only gains interest for a short amount of time at the Olympic Games. In my opinion it has always been one of the best summer sports though. If there was a way to make the sport bigger and more popular, I would support it immediately.
I am very ambitious and still have a lot I want to do in my sporting career. In 2024 I want to be at the Olympics in Paris and fight again for the medals and a place on the podium. I want to become even better and my motivation is higher than ever.
I would be very happy to have you by my side on my journey towards Paris and maybe even beyond.
Fancybox.bind("[data-fancybox]", { // Your custom options });