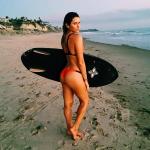 Lyhyesti
Professional surfer | Model | Speaker . Featured in the mainstream media and followed by millions.
Esittely
I grew up between the beauiful beaches of the North shore of Oahu, and southern California. I was naturally drawn to the ocean, swimming by age 2 , body boarding by age 4 and surfing by age 6. Naturally gifted, I started competing at the young age of 7, where I went on to win over 200 amateur events, including the NSSA National championships at age 16, and then turned full time professional. My talent as a surfer and spokesperson has pushed me into the mainstream media being featured in on television on programs such as MTV, FX, ESPN, Access Hollywood, and NBC's Last Call with Carson Daly. As well as on media outlets such as Shape, Self, Huffington Post, and GQ.
Furthermore, I have a huge presence on social media. As of now, my Facebook Account has 2.136.053 Likes and my Instagram Account has 1.162.703 Followers who are always eagerly awating my next post. I also run a succesful Twitter-Account with 137.000 Followers.
I am combining the beauty of surfing with my social media influence and am therefore the perfect fit for every sponsor looking to engange with a worldwide community. I am looking forward to our first contact! :)
Unelmasponsori
The perfect sponsor is an international brand who is looking to engange with a global surfing community via my social-media reach.

Anyhow, I would be happy to work with any interesting brand who I think would be a good fit for the both of us!
Tavoittavuus / Linkit
Korkeimmat saavutukset
2015- Womens pipeline pro – 5th
2014- Super girl pro -13th2013 – Billabong XXL Big wave awards nominee for Overall performance
2013- 2nd Women's Pipeline pro
2013- Redbull Quiantang team Challenge- 3rd place
2013 – 2nd place APSS Shoe city pro
2012- 3rd place Honda Pro
2011- 3rd place women's Pipeline pro
2010- Women's Pipeline pro Champion
2008- APSPR Corona pro tour women's champion
Avainluvut sponsoreille
over 2 Million Facebook-Fans
over 1 Million Instagram-Followers
viral presence thanks to modelling jobs and appearances as a speaker
Fancybox.bind("[data-fancybox]", { // Your custom options });