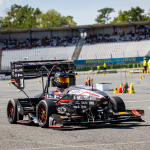 Sommario
Formula Student Team of Politecnico di Milano: 100 students who design and build a racing car to compete worldwide with other universities.
Descrizione
Dynamis PRC is the Formula Student Team of Politecnico di Milano. It is composed of more than 100 students who design and build a prototype racing car with dedication and passion every year. After years of sacrifce and hard work, the single-seater competes in one of the major competitions for open-wheel cars: the Formula Student.
Formula Student is an international university competition organized by SAE International, an association of engineers and technicians in the automotive world. It involves students from the engineering faculties of more than 600 universities around the world who are asked to design, build and bring to the track a formulastyle racing prototype each year. The project is evaluated in seven events, ranging from on-track performance, to engineering design, to economic and fnancial analysis of the car. The competition currently has three categories: Combustion, Electric and Driverless.
Our Team has a hierarchical structure chaired by the Team Leader who manages the entire Team together with the Technical Directors and the Sporting Director, with the supervision of two Faculty Advisors. Dynamis PRC allows students to apply the knowledge acquired during their studies and to cultivate important hard and soft skills that are fundamental in a working context, such as teamwork, management of pressure, time and human resources. After many years of competitions and successes in the Combustion Vehicle category, we achieved the 4th place in the world ranking and the 1st place in the Italian one. In 2020 the Team decided to design and build the frst electric prototype. Starting from the 2022 season, an autonomous driving system will be added in order to compete also in the Driverless category.
Fancybox.bind("[data-fancybox]", { // Your custom options });