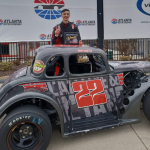 Kurzbeschreibung
Looking for sponsors to aid with my dream of becoming a NASCAR racecar driver. Currently driving a US Legends car in the Pro Division.
Beschreibung
To whom it may concern,
I am currently looking for a sponsor for my son's race car and racing career. He currently drives a Bandolero race car in the U.S. Legends series racing. His home track is Atlanta Motor Speedway ¼ mile track. He has been racing for a little over 5 years.
He started his racing at K1 speed indoor go karts. They have a weekly race season and he was winning almost every week against kids almost twice his age and he was only 7 at the time. I was able to get in contact with Mr. Ken Ragan (ex-NASCAR driver), head of the Atlanta U.S. Legends area, in regards to the racing through a friend.
In speaking with Mr. Ragan he sold me on the idea of allowing my son to race. According to the statistics of Bandolero and U.S. legends cars, about 40% of kids who drive here in Atlanta make it into NASCAR somehow, whether it is on the engineering, pit team, or driver. Mr. Ragan's son, David Ragan just recently retired from NASCAR Monster Cup series. The U.S. Legends series is a great program on how to teach kids how to become professional racecar drivers and educates them on the ins and outs of all types of racing and the knowledge behind it all.
My son Gianni has raced the Bandolero since approximately the end of 2016 until now. Besides Atlanta Motor Speedway, he has raced at Charlotte Motor Speedway, Atlanta Motorsports Park, Crisp Motor Speedway (Cordele GA), Anderson Motor Speedway, Lanier Raceway. These are just some of the list and it will be expanded this year. We have plans to drive to NY to race on Long Island. We are originally from Long Island and most of our family is still there.
Since I could remember, Gianni has wanted to race cars. I was a mechanic before I was a Police Officer so my son grew up around cars and always had a matchbox car in his hand. He is currently 14 years old.
U.S. Legends series races all over the United States with tracks in almost every state. There is an international series as well and they ship cars to countries like Australia and Canada. They have there own T.V. Network called Legends Nation TV, where you can stream live over the internet. (great for family out of state). This gives great exposure to kids to hopefully be seen by a big race team. They also broadcast national events on Racingamerica.com
Approximately over 2 years ago my son and I attended the Caffeine and Octane car show which is held in Dunwoody GA. It is claimed to be the biggest car show in America and has its own T.V. show on NBC sports. After the second time visiting, my son always draws one of the biggest crowds. People flock to his car and his personality. Because of the this, we were approached by the show's producers. They wanted to Showcase him on an episode and we agreed. He was filmed on Season 4 Episode 4. Ever since then, he is like a little star. I have had people come up to me in restaurants and friends contacting me from other states that they saw his episode. It was very exciting.
The T.V. host loved it so much when they met my son, that I befriended him and he just recently bought a Bandolero for his daughter and is planning on getting her to race.
In order to become a professional NASCAR driver or race car driver for that matter, you will need money. money for the car, parts, equipment, training, seat time etc. Most of the drivers who make it come from money or have parents who have big businesses, or family that is already made a household name for themselves in the sport. No one in my family has done that. I would just love to give my son a chance that he deserves like all the other big name racers. It all starts with sponsorship. Someone who will just give him a chance to prove himself. Which I know he can, because I have seen him do things with a car at his age that is impressive, and the car is as good as I can get it, with his knowledge and money that I have.
After Bandolero's, most kids usually go to the Legends car which is better and faster. Bandolero cars are rear wheel drive, solid front suspension and centrifugal clutch driven with one gear and about 30 HP. The legends cars are 4 wheel independent suspension, over 130 hp, rear wheel drive and it is a manual transmission like a motorcycle. Some kids who have the means can go to the Late Model series, which is one to two steps just shy of NASCAR or ARCA series. I recently bought a used Legends car this year. He has raced 9 times so far this year in this car and has 5 trophies so far. Gianni has been impressive to say the least and has turned heads around the racetrack. With his skill level and personality, he can excel in this sport.
As you may or may not know, race teams have sponsors that can have several options up to but not limited to ads on the car, embroidery on the race suits, helmet wraps, t-shirts, ball caps etc. The sponsor can just sponsor tires or fuel which is something that is constantly needed.
In closing, I would love to work with a company who is doing great things for this country. I know I am probably forgetting something but am always available for questions. I hope to hear from you soon. Thank you for your time.
Fancybox.bind("[data-fancybox]", { // Your custom options });