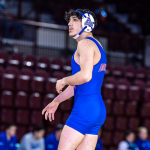 Kurzbeschreibung
My name is Antonio (Tony) Segura and I am a first year at American University. On top of being a wrestler, I am a Political Science major.
Beschreibung
I personally would be the best candidate to represent your brand or company due to various reasons. I would say my most prevalent attribute is my personality. Both online and in person, I am very extroverted and have quite the presence in a room that others have deemed as outgoing. This natural character trait for me would be a positive influence for your business because I would be very outgoing and upfront about the product or service being provided. I have a strong connection with a little more than 1,200 people via Instagram and this influence would only grow as my current and post college wrestling career progresses. As a Freshman in college wrestling, outlets like Flo and Trackwrestling are prevalent in my daily life which have a massive following in the sports world. Although not at the level of some of the superstars in the wrestling world, I show great potential to be with my skill and University being a D1 college in the EIWA league. Aside from these factors, my other character traits such as communicative, hardworking, reliable, honest, intelligent, persevering and personable to all types of people would benefit you and the product you are offering.
Unser idealer Sponsor
My ideal sponsor would be someone who is related to the athletic world but I am very diverse in my interests. I am bilingual (Spanish and English), I am very into video games, skateboarding, music and male fashion. I am open to any sponsors who are kind and very communicative with whom they have sponsored.
Verwendungszweck
I am very active on social media and am very communicative with sponsors.
Reichweiten / Links
Größte Erfolge
I was a 3x State Champion for 5A in Colorado, I was a Fargo All American in Freestyle and Greco Wrestling, I am a College D1 Athlete who was in the starting line up in the 2021-2022 season.
Kennzahlen für Sponsoren
My social media on Instagram has accumulated around 1,200 followers and this came naturally with my personality and performance in the wrestling world. Although small compared to Olympians in the wrestling community, I am in close contact with these people and the streaming services like Flo wrestling who cover my Athletic career. On top of Flo Wrestling, ESPN+ is the major provider of my school's competition when done at home. I have been around in the tv scene back home in Denver, Colorado but luckily enough I live in Washington, d.c., our nations capital. I am currently looking to expand my influence onto YouTube for gaming as well as Twitch. I am currently on Facebook (with max friends), Instagram, Twitter, YouTube, Twitch, ESPN+, Flo Wrestling all with more than hundreds if not thousands knowing my name and image.
Fancybox.bind("[data-fancybox]", { // Your custom options });