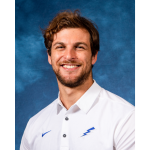 Summary
Multiple time USA Fencing National Team member Training for the Olympic Games Volunteer Assistant Coach for US Air Force Academy NCAA Fencing Team
Description
I am an athlete who respects and focuses on wholistic preparation, as well as giving back to the community.
I live at altitude (7250ft elevation), swim 3+km per week, hike in the Rocky Mountains on weekends, meditate and do visualization daily, do yoga 2-3 times per week, and do weight training. This is all simply cross-training. for fencing, I take 3 private lessons per week with my coach, and fence 3-4 days per week. I fund all of my training myself.
Before and during college, I had a very decorated and successful career, but it was funded by parents/NCAA scholarship. Now, post-college, I work full-time to make it all happen.
I also volunteer as a coach for the US Air Force Academy's NCAA fencing team as a form of paying it forward. I work with amazing athletes and young leaders, helping shape them into champions on the fencing strip as well.
I have found a way to make it all work for me, but help from a sponsor (equipment, nutrition, travel costs, etc) would significantly help me pursue my goals.
Reach / Links
Key figures for sponsors
1800 Instagram followers, but could grow presence based on requirements.
~300 competitors per national/international event
Connected Profiles
New York Athletic Club

(Club)
Fancybox.bind("[data-fancybox]", { // Your custom options });