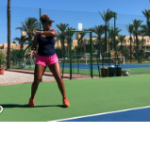 Summary
I'm Audrey, 18 and just made my debut on the int. tour last year. For my journey ahead it would be great to have some support.
Description
Since I was 4 years old my dream was  to become a professional tennis player. So my parents started to drive me to tennis lessons here and there. Honestly I was never really the most talented girl of the group, but had outstanding learning process, its like I absorbed the advices that were given to me. It's the hard working attitude and the belive in myself what made me the player who I am today.
A lot of my previous coaches didn't belive in me and said I would be to slow or just un fit for the sport. This were the exact reasons for me to work harder and harder everyday, those kinds of comments are the reason what keeps me motivatet.   
I want to show the world and all the other girls out there, who have been  told that they nerver gonna make it because you don't have talentd, that its possible. It's the way you deal with those comments, it keeps me motivatet and to work even harder every single day.
Back there I can already say I'm proud of that what I achived until today, from beeing told never beable to play at high competitions, I'm playing since last year  international tournaments at the WTA Tour and it's just the begining. 
Currently I have a sponsor ship with the german close company, BIDI BADU and with the austrian company Lenzing.       
Next to the tennis court I'm speaking as well 4 languages fluent, german,frecnch, english and spanish (always good for internatonal reach).
It would be great to start my journey with some financiall or gear sponsoring. 
Reach / Links
Key figures for sponsors
Courrently I have over 700 Followers on Instagramm around the world. I have been traveling since I'm 14 international and got to know many different cultures and pepole around the world. I was at the Waske University in Germany where I did some promotions, and currently I'm in Spain at the David Ferrer Academy.