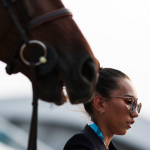 Summary
Philippine Show jumper based in Europe for 6 years whilst studying her BA in Philosophy&Psychology and her MSc in Sports Industry Management
Description
Who am I?
Hi I'm Chiara, a queer a Philippine show jumper, born and raised in Australia and currently living in France.
I've spent my life in 3 different continents: Australia, Asia and Europe and this has enabled me to compete and make connections with other athletes within the sport from all across the globe

I've competed in 3 large championships to which I was the youngest athlete within my sport

2015 South- East Asian Games in Singapore
2017 South-East Asian Games in Malaysia
2018 Asian Games in Indonesia


I've been living in Europe for the last 6 years training whilst doing my Bachelors in Philosophy & Psychology at the American University of Paris and currently finishing my masters in Sports Industry Management at EmLyon Business School.

I've always had to balance my time between University/school, co-curricular, and riding professionally.

I really enjoy working and I am trying to understand the Equestrian show world in a very holistic view by engaging with different areas of the sport for example:

Working in Retail for SAKKARA EQUESTRIAN
Working in Events management (to eventually plan and organise events as a consultant)
Taking an internship with the partnering NGO of the Federation Equestre International, JUSTWORLD INTERNATIONAL.
Writing my masters thesis on a business plan to help expand the sport.


Due to my multi-interest within the sport and my multi-cultural background, I have a deep understanding of what the sport lacks and needs in different continents, and am trying to find ways to grow the sport.

I'm a young entrepreneur looking to start a few businesses within the industry in the next coming years.


As a rider I've trained with many good sports people to get a good understanding of the different techniques that can be utilised for success. These trainers are:

Vicki Roycroft (Australia 3 time Olympian)
Mikee Cojuangco-Jaworski (Philippine Asian Games medalist, now on the IOC BOARD)
Amy Graham (Australian World Equestrian Games rider based in France)
Reed Kessler (American youngest Olympian in the sport)
Maurice Ruisbroek (Dutch instructor trains many good riders such as Taizo Sugatani for Japan)
Guillaume Batillat (French rider)


My multi-faceted interest in the sport makes me an interesting athlete, as I try to understand every aspect of how the sport functions to try and achieve success.

My current goal is The Asian Games in Hangzhou China in September this year, and hopefully the Paris Olympics, where I would like to do some work for the IOC along with compete.
Our preferred sponsor
My ideal sponsor is someone who has a similar mindset as me in regards to my sport and the development of sports, or has products I truly believe in. It would be someone who wishes to expand and push boundaries within the industry. Someone who would like to see smaller countries have the opportunity to compete at higher levels of the sport and have it be returned to skill base rather than a sport for the rich.
Examples of dream sponsors:
SAKKARA EQUESTRIAN
ANTARES
VEREDUS
BEMER
PARLANTI
Sponsorship Usage
Equipment for my & my horses
Transport costs to competition and training
Competition fees
Health/recovery for me & my horses
Please note that I want all relationships with sponsors to be mutually benefitting, so the way I use the funds may vary.
Reach / Links
Greatest successes
12th Individually SEAG 2015
Youngest rider in SEAG 2015
2nd 1*GP Paris Masters 2016
Youngest rider in SEAG 2017
Youngest rider in Asian Games 2018
Key figures for sponsors
Social media platforms of over 2000 people
Competes on an international stage in Europe/Asia
Connections in every aspect of the equestrian community in Asia, Europe, Australia and the United States
Has personal connections in 3 continents (Australia, Asia and Europe)