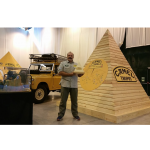 Summary
Overlander. Challenger of world records of driving long distances in all continents against the clock on a 4X4 vehicle.
Description
THE BRAND MARKETING AND SPONSORING IDEA – TRAVELLING YOUR BRAND FAR AWAY
Adventures and especially driving expeditions are an incredible way to capture the audience's imagination. They focus people's attention on your brand whilst the expedition team (men and machine) battle across unknown terrain or legendary driving routes. Communication through social media will add to the direct presentation of the sponsors' brands. Photos and videos and detailed written coverage of each expedition (it is my commitment to write and present a log book after each expedition/ record attempt with a full description and photo album).
Greatest successes
1996 Camel Trophy and  Land Rover Award Gewinner Trainer
Key figures for sponsors
Do you want to affiliate your company with a Guinness World Record? Do you want to see your pride (BRAND) travelling for thousands of kilometers around the globe and on thousands of posts on the social media web universe? I am giving you and your brand the opportunity to achieve the highest awareness and publicity. Join me in my expeditions – world record setups and attempts and travel with me above the limits and beyond the horizon. Your financial or material support is essential for a successful expedition – attempt. Do not forget the CSR part of the project (I am planning to raise the awareness for children related NGOs through social media communication. From the launch of every project to the press conference after the end of each expedition, a donation mechanism will be set up for these organizations). Some numbers : More than 300 real followers on FB and Instagram related to 4X4 overlanding events and travels. National and international special press (newspapers and magazines) as communication sponsors will publish my travels. My channel on Youtube will send images to the web universe as well