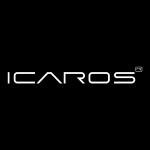 Summary
ICARACE is a global, competitive multi-player race simulation where players fly on ICAROS human flight systems in virtual reality.
Description
Unser Unternehmen, die ICAROS GmbH, produziert seit 2015 designprämierte
VR-Trainingsgeräte und dazugehörige VR-Software, die in diesem Zusammenhang als "mit dem Körper steuerbare Flugsimulatoren" beschrieben werden könnten.
Aber ein Clip beschreibt ja bekanntlich mehr als 1000 Worte…
https://www.youtube.com/watch?v=OMBxuWzfyko&t=23s
2018 durften wir den globalen Release von ICARACE feiern – ein globales Online Multiplayer Game und eine Verbindung aus virtuellem und körperlichen Wettkampfsport.
https://www.youtube.com/watch?v=oesn33r-n8I
Die Community zählt bereits einige hundert Spieler auf 6 Kontinenten und wächst stetig.
So sehr, dass wir dieses Jahr die offizielle ICARACE eSports World´s Championship veranstalten.
Beim letztjährigen und ersten ICARACE live Tournament kurz nach Release und konnten wir bereits mehrere hundert Besucher vor Ort begeistern und etliche weitere im Live Stream.
Die Weltmeisterschaft 2019 wird am 11. Oktober in München stattfinden und wir möchten Ihnen hierfür die Gelegenheit bieten, offizieller ICARACE Sponsor zu werden
Our preferred sponsor
Ob branchenfremd oder eSport-Pate:
Wenn Ihr zu uns passt, passt ihr zu uns!
Sprecht uns an, wir freuen uns über jeden Kontakt!
Sponsorship Usage
Euer Sponsoring fließt, sofern kein anderes Model vereinbart, zu 100 Prozent in das Event and dessen Bewerbung.
- Online Werbung (Social Media, Google Banner)
- Online Content (Social Media, Website)
- Printwerbematerial
- Location & Preisgeld
Reach / Links
Greatest successes
Über 2.000 installierte Geräte weltweit
Stark wachsende Community auf 6 Kontinenten
Ausgezeichnet mit folgenden Awards:
ISPO Brandnew Overall Winner 2016
ISPO Brandnew Award 2018 – Gold Winner
UX Design Award 2016 – Gold Winner
German Design Award Gold 2017
Red Dot Award 2018
Red Dot Honourable Mention 2016
Key figures for sponsors
- 20.000 Social Media Follower auf Instagramm und Facebook
- Presseberichte in Wallstreet Journal, Men´sHealth, Focus, The Guardian, Los Angeles Times, The Telegraph uvm.
- Diverse TV-Berichte, u.a. bei Galileo
- Unsere Website wird täglich ca. 1000 Mal geklickt
- Kaufkräftige Kunden, aber auch viele Junge Nutzer (Ziel und Nutzergruppe: 18-60 Jahre, 60 % Männer, 40 % Frauen)