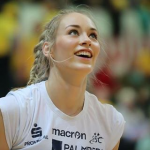 Summary
German Volleyball National Player | Player at Bisonte Firenze | ASICS brand ambassador
Description
As a volleyball player of the year and MVP of the German volleyball league Louisa Lippmann can be described without exaggeration as a figurehead of German volleyball. Or, to put it in the words of the "BILD": For two years she was the radiant winner face of volleyball champion Schweriner SC: Louisa Lippmann (23).
Since 2018, Louisa plays in Italian Seria A for Bison Firenze.
Louisa's sympathetic demeanor and her athletic success - with 358 points scored for the SSC Palmberg Schwerin most successful player in the main round of the league - have also noticed sporting goods outfitter Asics, who has selected Louisa as Europe-wide advertising face in volleyball.
Sports photos: Wikipedia user Sandro Halank (2x) and Ralf Lotys under CC-BY license
Reach / Links
Greatest successes
2014: Winner Montreux Masters
2014: European League finalist
2014: 9th World Cup
2015: German champion
2016: German cup winner
2016: German champion
2017: German champion
2017: VBL Supercup winner
2017: Volleyball player of the year
2018: German champion