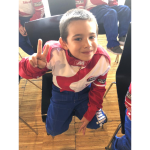 Summary
Kart driver, 9 years old. Motorsport passionate since birth.
Description
Manuel has a true passion for cars since the early days.
When he turned 5, he expressed the desire to try a go kart for the first time. After having spent a couple of years practising with indoor rental karting, in 2020 he started to practice with outdoor kart and in 2021 he took part to Rotax Micro category, including some European races.
He just turned 9 and in 2022 he can compete in all the most important mini kart competition, in particular:
Italian Rotax championship
Swiss Rotax championship
Rotax Euro Trophy
Unfortunately Motorsport is an expensive sport and Manuel needs the support of sponsor to cultivate his passion and try to achieve some remarkable results.
Our preferred sponsor
Appassionato di motorsport, con il desiderio di contribuire alla crescita di giovani piloti, che cercano di competere ai massimi livelli con fair play.
Sponsorship Usage
I fondi raccolti saranno principalmente utilizzati per sostenere i costi relativi a iscrizione gare, ricambi e manutenzione del kart, spese di trasferta, ecc.
Il logo dell'azienda sponsor avrà massima visibilità su casco, tuta, kart, tenda del team.
Key figures for sponsors
The Rotax Max championship is one of the most popular karting competitions all over the world.
The best drivers from over 60 countries are taking part to the Grand Finals events, with Live Streaming and high visibility for sponsors.
Fancybox.bind("[data-fancybox]", { // Your custom options });