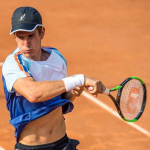 Summary
Professional Tennis Player / Best ranking in the ATP world rankings: 159 / Called twice as the fifth player of the national team for Davis Cup
Description
At the age of 17 I reached my best ranking in the world ranking under18 at position 21.
In 2012 I arrived at the final in the Wimbledon Juniores Double tournament.
In 2013 I won the European Championships with the Italian National Team playing as No. 1 of Team.
Also in 2013 I won the first 3 ITF PRO tournaments of my career entering in the top 500 of the ATP world rankings.
In 2015 I reached my first final at the ATP Challenger 125 tournament.
Also in 2015 I received an invitation from the Italian Federation to participate in the singular tournament at the Internationals Italian at the Foro Italico at the ATP MASTER1000. Winning the first round against Giraldo (n.40 ATP), and losing in the second round against Berdych (n.5 ATP). In the double tournament I won in the first round against Isner-Querrey (respectively n8 ATP and n11 ATP).
In sport careeri have 4 ATP Challenger finals (two wich made in 2018).
My best ranking in the ATP world ranking is at position 159.
I've been called twice as fifth player for the Italian team for the Davis Cup .
I took part in all 4 Grand Slams tournaments.
Fancybox.bind("[data-fancybox]", { // Your custom options });