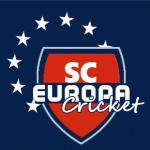 Summary
SC Europa Cricket is a a professional club. We will play Bundesliga next year. We are focusing on integrating refugees by Cricket.
Description
SC Europa Cricket, where cricket meets passion, commitment and respect!
We are the most dedicated and emerging cricket club in Hamburg. We are a large group of young and experienced cricketers who have played Bundesliga under the flag of HSV (Hamburger Sport-Verein) for years and were a part of HSV Cricket. The cricket family is growing and getting bigger in Hamburg, so we have joined a new club and are now affiliated with SC Europa to improve and enhance this great sport to a new level.
We are affiliated and recognized by the DCB(Deutscher Cricket Bund). Our partners include Pepsi ICC Development Programme (European Regional Support), NDCV (Nord Deutscher Cricket Verband) and Bundesliga
Our facilities include an indoor hall and an outdoor ground which are located at Mümmelmannsberg. You could find more information at our website http://cricsceuropa.de/
We are also focusing on the idea of integrating refugees by Cricket. They love to play cricket and we have already registered one team for them. Next year we will register more and offer them more competitive opportunities.