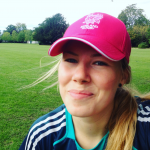 Summary
Rugby spiele ich seit 16 Jahren! Seitdem ich 18 bin spiele ich für die Nationalmannschaft und möchte dieses Jahr zur Europameisterschaft
Description
Im Alter von 11 Jahren habe ich angefangen Rugby zu spielen. Als einziges Mädchen musste ich mich damals neben den Jungs beweisen. Lang ist's her.. seitdem ich 18 Jahre alt bin, spiele ich für die Nationalmannschaft. Erst in der olympischen 7er Variante, heute im traditionellen 15er Rugby. Um mich immer weiterzuentwickeln, habe ich keine Kosten und Mühen gesparrt, um darüberhinaus in den besten Einladungsmannschaften der Welt, bei den größten Turnieren u.A. in Dubai, New York und Sydney gespielt. Und das immer, um all meine Erfahrung schließlich für Deutschland einsetzten zu können. 
Damit ich auch dieses Jahr die Europameisterschaft im deutschen Nationaltrikot spielen kann, würde ich mich freuen, Sie als Sponsor gewinnen zu können. Neben zwei Vorbereitungscamps in Heidelberg und Köln, fahren wir für ein Testspiel nach London um dort gegen die British Army zu spielen. Das erste Spiel der EM findet in Amsterdam statt, das zweite vorraussichtlich an einem Rugbystandort in Deutschland. 
Greatest successes
2011 7er Deutscher Meister (RK03 Berlin)
2013 Berlin Sevens: Player of the Tournament
2014 Dubai Sevens International Open Winner (Tribe 7s)
2015 Summer Social Champion - Rugby Rocks London (Tribe 7s)
2015 3. Platz 7er Deutsche Meisterschaft (RK03 Berlin)
2016 Britischer 7er Meister (University of Gloucestershire Women's Rugby FC) 
2016 2. Platz Hochschul-Europameisterschaft (UOGWRFC)
2017 3. Platz 7er Deutsche Meisterschaft (RK03 Berlin)
2017 1. Platz Nord-Ost-Pokal (RK03 Berlin)
2017 1. Platz Schietwettercup in Kiel (Berliner Rugby-Verband)
2017 Schietwettercup: Player of the Tournament
2018 7er Liga Ost Meister
Key figures for sponsors
Wenn ich mal nicht Rugby spiele, gehe ich meinem Berufswunsch nach, Journalistin zu werden. Für mich ist es eine Art Hobby und Job zugleich, vor und nach Wettkämpfen, darüber auf allen Social Media Kanälen zu berichten. Da ich die kompletten rechte über meine eigenen Kanäle besitze, habe ich dort die Möglichkeit Ihre Marke beliebig zu platzieren. Ihr Logo kann außerdem einen Platz auf meine Trainingskleidung bekommen. 

Darüber hinaus kann auf der Vereinsseite meines Heimatvereins über sie berichtet werden. Ihr Brand kann in Vereinszeitschriften und Online vermarktet werden.