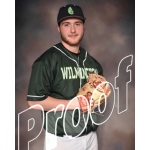 Kurzbeschreibung
-Currently go to Wilmington college - Left Handed Pitcher -2024 grad
Beschreibung
I am currently at Wilmington College and I am also a athlete ( Student- Athlete).
I play Baseball as well as a Left-Handed Pitcher.
I tend to go pro and get drafted. I am a hard worker and no one will outwork me and this gives me a leverage over people.
I believe Sponsoring me would go a lot way now and in the near future when I accomplish my goals.
I am a well rounded athlete who cares for others and plays for the teammates behind me.
Whoever sponsors me would get shout outs and be involved in my everyday life.
I care for whoever would take a chance on me all I need is a chance from you.
Unser idealer Sponsor
I would love to take in a sponsor whoever wants to give a chance and sponsor me.
The sponsor who chooses me will have great deal of success and will benefit off my name.
I will put all my effort in to the sponsors who take me in.
Verwendungszweck
I am using this to get NIL deals with sponsors.
I am a college athlete looking to receive deals and help out as well.
Looking to also help organizations with having my name in their organization.
Reichweiten / Links
Größte Erfolge
I have success in the classroom.
Success on the baseball field.
Hardest worker in the room.
Love to interact with others and understand others.
My motto is always be the first and be the last to leave the room.
Kennzahlen für Sponsoren
I post on Instagram and I like and retweet on twitter.
Instagram- 500 Followers ( aaron.boster)
Twitter- 60 followers ( Aaronboster1)
I post on story and like lots of content, this will allow to help with organization who will sponsor me.
Fancybox.bind("[data-fancybox]", { // Your custom options });