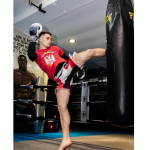 Kurzbeschreibung
I'm 22-year-old from Serbia, Novi Sad. My career started six and a half years ago at Warrior Gym, and my combined score is 30-13-0.
Beschreibung
I am a young combat athlete with good results so far and with a brighter future yet to come.My carrier is at the beginning of the rise and I'm looking for sponsors to help me on my way to the top, benefiting us both in this journey. From my accomplishments, I would like to point out the following:
Multiple times WAKO Serbian state champion
WAKO Balkan champion
Winner of WAKO European cups
My place in Serbian national team and an amateur record of 26W-10L-0D.
My professional career started threehalf years ago, I'm on the right path to the top and I'm just getting started. My confidence in success is huge and I have a healthy obsession with my dreams, giving all I have and work hard each day to pursue them.
I think that by sponsoring me you can advertise yourself to a large audience of people as well as gain a large number of new customers or clients. I would advertise your product, or business, through my successes in sports, in the fights by wearing branded clothing as well as on social media to my audience and fans. I want to bring good advertising and good publicity to your brand, or business, through my career and I think I'm capable of something like that, while you help me on my journey to be the best.
Reichweiten / Links
Kennzahlen für Sponsoren
By sponsoring me you can reach a clientele with an affinity for combat sports, gym and sports in general
Wearing your business logo or brand on my sports kit and giving shout outs in numerous organizations
My Instagram account has 2,071 followers. The reach with every post is from 1,500 to maximum of 16,000 people
Maintaining a consistent reach in both old followers and new accounts, in last 90 days reached over 20,500 accounts on Instagram posts
Mentioning on public television during interviews and programs of a similar type, and therefore a large audience reach
People from my gym wearing branded clothing with your logo on it, helping advertising reach even more people