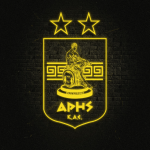 Summary
You can check everything that you need to know in our site www.arisbc.gr
Description
ARIS, the "Emperor" of Greek basketball and the best Greek team of the 20th century in all sports, as voted.
Always destined to star, ARIS began to conquer titles just a few years after the founding of the basketball section. The 21 titles (10 Greek Championships, 8 Greek Cups and 3 European trophies) prove in the most eloquent way the greatness of the "Yellows", while the two stars above the emblem of the club brings awe.
Several of the personalities in Greek basketball wore ARIS' jersey Great athletes such as Nick Galis, Panagiotis Giannakis, Phaedon Matheou, Harris Papageorgiou, and great coaches like Giannis Ioannidis and Anestis Petalidis, helped the sports history of our country to be written, while making proud not only ARIS' fans, but all Greeks.
Reach / Links
Key figures for sponsors
Our association has 50000 members (75% male and 25% female)
The average age of the members is 5 - 85 years
Our home matches (14 per season) are visited by 3500 visitors on average
Our Facebook page has 37,500 followers.
Our Instagram page has 25000 followers
Our App (3 months since the release) has 1500 downloads
By sponsoring our club, you can reach a clientele with passion for sports
Fancybox.bind("[data-fancybox]", { // Your custom options });