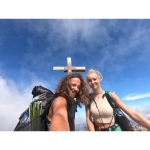 Kurzbeschreibung
We are a german adventurer- couple from Kiel. We will be hiking the Pacific Crest Trail next year,
Beschreibung
We are an adventurous couple from Kiel, Northern Germany. Together we've so far done several Outdoor-Trips, including the famous GR 20 on the Island of Corsica. As kind of a life goal, we will attempt to thru-hike the Pacific Crest Trail (PCT) together as a couple.
The PCT is a 4200 km long national scenic long distance trail. It starts at the Mexican border and follows the crest-line of the western pacific mountain range all along until the Canadian border.
It will probably take us 5 months to complete it. We will travel on foot, camp along the way and self-support our hike in small trail-towns.
You can follow us on instagram.com/django_hikes and /annican.sky
Unser idealer Sponsor
Would be an Outdoor-Food-Company that likes Nature as much as we do. We would like to find a Partner that provides a good nutrition along our way and that we could do advertisement for.
Reichweiten / Links
Größte Erfolge
On one Hand, Björn is a studied Civil Engineer, who built a House in Perth, Western Australia with his own hands, while Annika is a studied pharmacist. On the other hand, we had great successes outdoors. Riding our bikes 800 km around the borders of our home-state (Schleswig-Holstein) during covid-pandemic. Björn hiked from Lübeck to Poland in 2 weeks, together we hiked the very difficult GR-20 on the Island of Corse in France.
Kennzahlen für Sponsoren
1000+ followers on instagram, (growing), participation in Blogs and Podcasts. see my Linktree for more Information. We will start a Youtube-Channel about our trip.
linktree.com/django_hikes
Fancybox.bind("[data-fancybox]", { // Your custom options });