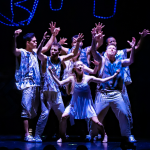 Summary
DREAMSCAPES verbindet Tanz unterschiedlichster Stilrichtungen mit Live-Musik, um auf der Bühne eine einzigartige Show zu kreieren!
Description
Fantasie, Farben und fulminante Musik – das ist DREAMSCAPES.
Lassen Sie sich entführen und tauchen Sie ein in ein fantastisches Märchen aus Musik und Tanz: Klassisches Ballett, Contemporary und Breakdance sowie eine mitreißende Live-Musik erzählen die Geschichte von Gut und Böse, von Kampf und Vergebung, von Abenteuer und Träumen!
Nach der ersten Produktion "Dreamscapes – The Show" wird mit "Dreamscapes – The lost Child" ein neues Märchenkapitel des Tanztheaters erzählt! Dabei erschafft das Künstlerkollektiv um Dominik Blenk, Markus Heldt, Robin Becker und Friedel Lelonek eine Show, die einzigartigen Klänge und mitreißende Choreographien kunstvoll verwebt. Neben der Stammbesetzung bekommt die Gruppe Zuwachs sowohl an Musikerinnen und Musikern als auch an Tänzerinnen und Tänzern, womit sich ein weiteres Mal die Grenzen verschiedener Tanz- und Musikstile auflösen und "Dreamscapes – The lost Child" zu einem großartigen Erlebnis machen!
Um unsere Show mit 12-köpfigem Team in vollem Umfang auf die Bühne bringen zu können, braucht es ein Budget, was viele Bereiche abdeckt und derzeit finanziell komplett von uns alleine getragen wird:
➢ Honorare der Künstler
➢ Produktionskosten
➢ Logistik / Reisekosten
➢ Werbekosten
uvm.
***
Fantasy, colorful lightshow and brilliant music - this is DREAMSCAPES! Fall into an atmospheric and fantastic event combining both: live music and dance! Classical ballet, contemporary and breakdance as well as livemusic tell the story of good and evil, of struggle and forgiveness, of adventure and dreams!
After the first production "Dreamscapes - The Show" (2018) now a new chapter is being told with "Dreamscapes - The lost Child"! The artist collective around Dominik Blenk, Markus Heldt, Robin Becker and Friedel Lelonek created a show that artfully interweaves unique sounds and rousing choreographies. In addition to the regular cast, the group is growing with both - musicians and dancers. Once again to dissolve the boundaries between different dance and musicstyles "Dreamscapes - The Lost Child" gives you as an audience a great experience!
To share our unique show with as many people as possible we need YOUR support! To be able to stage our show, consisting of a team of 12 members, a budget is needed that covers many areas:
➢ Artists' fees
➢ Production costs
➢ Logistics / travel expenses
➢ Advertising costs
etc.
Reach / Links
Greatest successes
Seit der Gründung des Künstlerkollektivs:
Zahlreiche ausverkaufte Shows in Theaterhäusern und bei Gala-Abenden (Stadthalle Lohr, Stadttheater Gießen, Liederhalle Stuttgart, Mainfrankentheater Würzburg, Congresscentrum Würzburg, Best Western Hotel, Mozartfest Würzburg uvm..).
Weltmeistertitel der Breakdance Crew von "Dreamscapes - The Show" im Jahr 2018
Regionale TV Beiträge im bayerischen Raum
TV Auftritt bei Pro7 (Dreamscapes excerpt)
Fancybox.bind("[data-fancybox]", { // Your custom options });