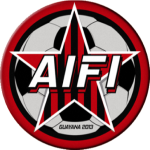 Kurzbeschreibung
The International Children's Soccer Academy, known as AIFI, is a Venezuelan professional soccer club based in Ciudad Guayana. Being the pioneers, based on the fundamental values ​​and principles, will form "Citizens and Soccer Players of Excellen
Beschreibung
Our Mission is educate boys, girls and adolescents through football, through the application of values ​​and principles such as love, respect, efficiency and integration, with the conjunction of the pedagogical, methodological, scientific and technical processes of the International Football Academy Foundation Guayana AIFI Children's Club, and in that sense, help build a life project, that of being "Citizens and Soccer Players of Excellence".
In turn, we want the Guayana International Children's Soccer Academy Foundation (AIFI) to be the best soccer institution nationwide, recognized for its excellent teaching and learning process, emphasizing values ​​and principles; establishing ourselves as the best soccer seedbed, which feeds the State and National selection, national and international professional clubs.
Create days of social work, both recreational, educational and health for the communities, creating citizen awareness and adding volunteers to raise our city, creating opportunities for the children who live in the surrounding towns to maintain hope and faith for a better future for themselves and their families. Also, we have in view, the opening of sports programs that address the need to serve the community of children and young people with limitations, whether they are with physical, intellectual or neurological disabilities to provide learning and training through a sporting activity, such as it is soccer.
And continue providing maintenance of optimal facilities to meet these needs; have training equipment in good condition for the use of all athletes and students of the CLUB.
Reichweiten / Links
Kennzahlen für Sponsoren
sponsorship, benefit, social media precence, sports, football, support,
Fancybox.bind("[data-fancybox]", { // Your custom options });