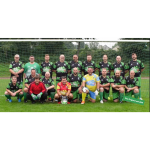 Summary
Football team for overweight people Get off the couch and get fit again and do sports with like-minded people
Description
We are a special football team that has attracted attention and interest from the start. Whether for participants or interested parties who wanted to become or have become part of the team. The media have already discovered us and reported on our project or idea.
The concept of getting overweight people off the couch and playing football again is very well received. Many do not have the courage to play in normal teams and to be a "fringe phenomenon" there.
Our team members feel good and are happy to be active again without being excluded.
The aim is to spread the idea further so that other teams are founded.
As a sponsor, you would have a large reach in amateur sports with a special football team that stands out from normal teams. Numerous media report more about us in the other paragraph.
As a sponsor, you would support us in carrying and spreading our idea.
We are part of PSV Bork in Selm-Bork, a club with over 500 members.
Our preferred sponsor
We are flexible when it comes to sponsors. But we can very well imagine that our sponsors come from the sports, nutrition and fitness sectors. However, this is not a must!
Reach / Links
Greatest successes
High media presence achieved with our football team for overweight people
Won Heavy Cup :-)
Key figures for sponsors
Club PSV Bork with over 500 members
Presence on Facebook currently 471 followers
Presence Instagram currently 366 followers
TV reports on: RTL, ZDF, WDR "Zeigler", WDR local time with studio interview, ARD morning magazine
Radio posts: WDR 5, Antenne Unna, Radio Kiepenkerl, Sportradio Germany
Podcast : Bosses Bundesliga Blog
Facebook and Instagram posts on Sportschau and Tagesschau over 5 million clicks and 4,000 comments
Website : www.heavy-kickers.de with several thousand clicks
Fancybox.bind("[data-fancybox]", { // Your custom options });