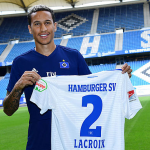 Summary
Léo Lacroix is a professional footballer. After playing in Basel and St.Étienne, the big centre-back is now starting for the HSV
Description
Léo Lacroix is a Swiss International football-player, currently playing as a center-back for German club Hamburger Sport-Verein (HSV). With his 1.97m, the giant has been able to make a name for himself in no time and is now a vital part of the "Mission Bundesliga".
Before arriving in Hamburg, the kind defender played for the Swiss top-club Fc Basel, as well as for French side AS St.-Étienne. 
Playing for the HSV is a special occasion for the gentle giant. "In the past, there have been some great footballers dressing up for the hanseatic side. I am verry happy to be here and to grow as a player and a person. This opportunity means a lot to me"
Léo's enthusiasm is contagious! Please contact us, if you want to start a strategic partnership with him - the possibilities are endless!
Reach / Links
Key figures for sponsors
18.000 Instagram-Follower
Internationall reach
Swiss International
Daily appearances in Hamburgs media outles