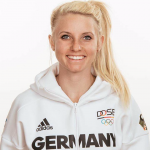 Summary
BMX pro from Germany. Olympian, 11x German Champion Elite Women and Silver at the Junior World Championships - THE German talent for Tokyo.
Description
Hello dear BMX friends and interested sponsors.
Thank you for checking out my Sponsoo profile!
Ever since I was little I have loved bikes. Every free second I tried to perfect my skills on two wheels. But just riding back and forth wasn't enough for me at some point, so at the age of 7 I grabbed my brother and we rode our first BMX track together - immediately I realised that this feeling will never let me go.
I trained and trained to get closer to my big goal and the first successes became visible early on. In 2011, I won my first medal at the Junior World Championships. A year later, I even improved by one place to silver.
14 years and countless training hours on two wheels and in the weight room later, my dream came true:
I was allowed to compete at the Olympic Games in Rio de Janeiro. A feeling that is addictive.
Every day I work even harder than ever before to be at the top in Tokyo 2021. I want an Olympic medal!
Become my strategic partner and let's take this journey together. Let's benefit from each other and write a success story. BMX sport has huge potential - let's use it together!
Our preferred sponsor
A strong company that supports me financially! I represent the company in the best possible way in training, at races and other appearances.
Sponsorship Usage
Funding my travel costs for races and training camps
Financing the costs for my coach (training plan & travel costs for races)
Reach / Links
Greatest successes
2016 Teilnahme Olympische Spiele in RIo
2012 Junior Bronze European Championships
2012 Junior Silver Medal World Championships Time Trial
2012 Junior Silver Medal World Championships
2011 Junior Bronze World Championships
Key figures for sponsors
Coverage on TV, online and in print
Shooting star of the German BMX scene
Countless races and public appearances possible
Over 10,000 followers on social media