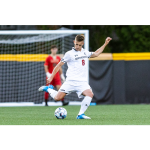 Kurzbeschreibung
Currently played D1 college soccer in the Northeastern Conference for Northeastern University. Have played in the UEFA Youth League for Esbjerg FB, won U19 Championship and Nordic Youth Championship with the team. Playing in midfield (CM/COM)
Beschreibung
First of all, thank you for your time. The reason why you need to sponsor me is that you want to promote your business while supporting the beloved sport and an athlete who is willing to sacrifice everything required to get to the top level.
As a sponsor, you will support a person who greatly appreciates discipline, perseverance, and respect as I believe this is the core of all success. As I said, I play soccer and my position is central midfield with both offensive and defensive qualities. My biggest competencies are in the airplay and shots outside the box, which is why I am both a goal-dangerous player, but also a defensively used player.
My mission is that you can help me to help you. By that I mean sponsorship will be treated with great respect and honor, but at the same time with an eye that I can help you get promoted.
Thank you for your interest.
Reichweiten / Links
Kennzahlen für Sponsoren
I study at Northeastern University, which has about 19,000 students of many different nationalities. Our home field can accommodate up to 2000 spectators and there is a great focus on promoting our athletic sports teams. All soccer matches are promoted both internally and externally via the school's own developed apps, but at the same time many thousands of students share the content on instagram, facebook, LinkedIn etc.
In addition, I have my social media where frequently share life from our sports facilities, matches, and general everyday experiences. As a player and person, I find myself interesting and often appear in interviews or mentioned around the press. In addition, I am an international student from Denmark, which makes me both have a network inside and outside the US borders.