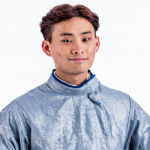 Kurzbeschreibung
All-American Division I athlete for the Duke Blue Devils. 2021 Individual & Team ACC Champion. 2021 NCAA All-American
Beschreibung
As someone who's been working part or full-time in the media&advertising industry over the past three summers, I completely understand the importance of building a brand, attracting engagement, and connecting with an audience. Fencing is one of those sports that when you tell somebody it's an NCAA D1 sport, people say things like "really?" and "I wish fencing were on TV more!" It's a growing combat discipline with not only deep history rooted in medieval France and even Ancient Egypt, but also with incredible marketing potential. Fencing offers a unique feel that other sports cannot offer; it's already a massive hit in Hollywood&pop culture (The Mark of Zorro, Princess Bride) and thus a guaranteed entertainer for audiences, but also gives a much-needed fresh take on NCAA programming to people who feel stale from the same sports on TV over and over again.
I intend on building an image often not seen in athletes, a fierce swordsman and warrior of integrity. This kind of image doesn't work with modern sports like football, basketball, and baseball because they lack the sophistication and deep historical connotations that a sport like fencing offers. OUR 2022 WINTER SEASON STARTS JANUARY, so the timing for partnerships could not be better right now.
Reichweiten / Links
Größte Erfolge
Won the 2021 ACC Individual Tournament as a rookie. Received All-American honors at the 2021 NCAA Championships after a 5th place individual finish. A four-time fencer on the United States Travel Team in high school, representing the country at World Cups. Over 13 year-long career, have won 15+ national medals.
Kennzahlen für Sponsoren
1.1K on personal Instagram. 700+ subscribers on YouTube, 200K video views. Duke Fencing Instagram has 2K followers. Previous sponsors include Uhlmann Fencing! Currently in talks with a premium skincare brand based out of South Korea, a growing market, for a potential partnership.
Fancybox.bind("[data-fancybox]", { // Your custom options });