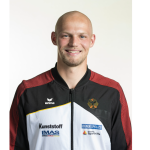 Summary
Tim Hecker, 24 years old, from Berlin, canoe racing athlete, Olympic Bronze Medalist
Description
Since 2007, I have been practicing canoe racing. Last year I finally fulfilled my biggest dream: The Olympic Games.
In Tokyo 2020, I started with the three-time Olympic champion Sebastian Brendel. In the semi-finals of the 1000-meter distance Canadian two-man we were able to break an Olympic record, which was once again beaten in the final. We crossed the finish line in third place in a race that has never been faster. I'm incredibly proud of it.
Why should you support me?
Canoe racing has always been a niche sport that only gains interest for a short amount of time at the Olympic Games. In my opinion it has always been one of the best summer sports though. If there was a way to make the sport bigger and more popular, I would support it immediately.
I am very ambitious and still have a lot I want to do in my sporting career. In 2024 I want to be at the Olympics in Paris and fight again for the medals and a place on the podium. I want to become even better and my motivation is higher than ever.
I would be very happy to have you by my side on my journey towards Paris and maybe even beyond.
Greatest successes
Olympic Bronze Medalist (2021 in C2 over 1000m)
European Champion (2021 in C2 over 1000m)
2x Vice European Champion (2019 in the C4 over 500m, 2021 in the C2 over 500m)
3x U23 World Champion (2018 in C2 over 500m and 1000m, 2019 in C2 over 1000m)
Key figures for sponsors
On Instagram I have 2500 subscribers and counting. I want to actively increase this number in order to gain more reach.
Fancybox.bind("[data-fancybox]", { // Your custom options });