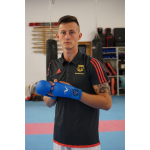 Summary
I'm interested in sponsors to support me on my way to the 2021 Olympics! I ask for support.
Description
Hello - my name is Maximilian Bauer, I am 22 years old and come from Cologne.
I have been practising karate for 15 years now, which has also been my profession for the last 2 years. After graduating from high school, I decided to join the sports support group of the German Armed Forces in order to be able to practice my sport in the best possible way.
However, I have a small problem.
I drive 4-6 times a week from Cologne to Duisburg (one way 75 km) because that's where I train.
At the moment I drive a leased car, but this is no longer an option for me, as I have to spend almost 800€ a month on petrol and car leasing.
That's why I'm now looking for someone who can help me find a sponsoring partner who could provide me with a car for a small amount of money (used car dealers, contract partners, etc.) or someone who can explain to me how to market myself properly, which I think makes more sense for the future.
Fancybox.bind("[data-fancybox]", { // Your custom options });