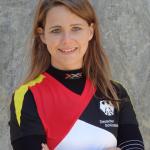 Summary
The target in sight with precision & concentration I am likeable, well organised and successful and look forward to good cooperation
Description
As a mother of two and a competitive athlete, the art is to meet all demands and still deliver high quality. To achieve the set goals with full concentration and precision.
That is sometimes difficult, but therefore also very remarkable.
I can imagine that many people can identify with me. Because that is exactly what is needed today: to combine career and family and to be successful at the same time.
My curriculum vitae, my sporting successes and my personally open manner make me a popular figure.
I am also a Life Kinetics trainer, which is interesting for everyone and offers many possibilities.
Life Kinetics is brain training through movement.
With a lot of positive energy, I master everyday life with my family, my job and competitive sports.
Note from the Sponsoo team:
After her success in Rio, Monika is a sought-after partner for many sponsors. We are happy to accept your enquiries - just use the contact form.
Monika's previous sponsorship offers were defined before the Olympic Games and will be revised again due to the high demand and the sporting success. Basically, however, everything is possible, from a post on Facebook to a presence at events to shooting training or a main sponsorship.
Our preferred sponsor
I want a sponsor that suits me and with whom I can identify well.
Sponsorship Usage
Travel costs, equipment costs, training camps, competitions, regeneration, childcare
Reach / Links
Greatest successes
European Championship 2017 in Baku, 1 place
Silver medal at the Olympic Games in Rio de Janeiro 2016
Olympic Qualification Rio de Janeiro 2016
World Cup Final victory SP 2014
World Cup victory SP 2014
European Games 2015 1st place
European Games 2015 3rd place
Vice European Champion LP 2014
3rd place European Champion SP 2013
multiple military world champion
multiple German Champion (altogether 36 medals at DM)
Key figures for sponsors
Shooting sports are widespread and appeal to many. My competition in Rio was watched by 6.5 million people.
There are about 1.5 million members in shooting clubs in Germany, about 500,000 of them in Bavaria.
All age groups are represented. (10-80 years)
On Facebook I have about 6,350 LIKES and per post I reach about 3,000-50,000 people, sometimes I reach an amount of 125,000.
The association magazine and national association magazine are published monthly.
Fancybox.bind("[data-fancybox]", { // Your custom options });