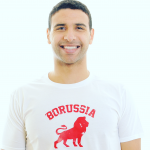 Summary
I am a professional table tennis from Egypt. I am qualified for Tokyo 2021. I am the current African champion and no. 29 in the world.
Description
I am participating at least in 12 well viewed events every year around the world (World tours, World cup, Olympic Games). I am glad to offer to my sponsor to advertise his logo on my sportswear (shirt, short, tracksuit). I would be happy to attend evnts with my sponsor. I have good connections to the Arabic sports community. I would like to cooperate with my sponsor that his product can be seen in my social media acoounts.
Reach / Links
Greatest successes
ITTF World Championships 2017
Men's Singles
Assar competed in the 2017 World Table Tennis Championships seeded in as number 50, facing off against Italian player Marco Rech in the first round, whom he defeated in a close match (4-3), having lost the first 3 sets. In the second round, he was defeated by Hong Kong player, and number 7 seed Wong Chun Ting (2-4).
Men's Doubles
Assar teamed with fellow Egyptian player Mohamed El-Beiali for the doubles event, in which they were unseeded and faced the number 5 seed Brazilian of Hugo Calderano and Gustavo Tsuboi, losing the match (2-4).
"Mixed Doubles"
Assar teamed with fellow Egyptian player Dina Meshref for the mixed doubles event, seeded as number 12 team. They advanced to the third round of the tournament, before being eliminated by the Spanish team of Álvaro Robles and Galia Dvorak (1-4).
All-African Games
Assar won both the 2015 and 2016 All-African Games, Men's Singles. In 2017, his three-peat was interrupted by Nigerian Table Tennis player, Quadri Aruna, who defeated Assar in the tournaments finals (3-4).
2018 ITTF African-Cup
Assar defeated Tunisian Table Tennis player Thameur Mamia (4-1) in the Quarter Finals of the event. He then defeated Saheed Idowu in the Semi Finals (4-0). Finally, Assar defeated longtime rival Quadri Aruna in the Finals of the event in order to win his third African-Cup.
As of August 2016, Omar is ranked 55th in the world in the ITTF world rankings. He reached his highest ranking of 29th in January 2016