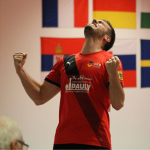 Summary
Current Vice World Champion, World Cup Winner, Champions League Winner. Bowler and triathlete
Description
My name is Manuel Weiß, I am 31 years old and an internationally successful sports bowler, triathlete and ultra runner. I live in Kümmersbruck, am married and have two children. In addition to my 41-hour work week, I train around 15-20 hours. There are also various competitions at national and international level. I have been a member of the German national team in bowling since 2007 and have been able to achieve many successes since then (see below). I play for the currently most successful bowling club in the world "Rot Weiß Zerbst" in Saxony-Anhalt, with which I won the Champions League in 2017 and 2021 and achieved many other successes. In 2021 I completed the Ironman distance (3.8 km swimming, 180 km bike, 42.2 km running) in triathlon for the first time, in 2022 the second time followed and in 2023 the 3rd time - the Ironman Frankfurt is on the schedule
amount of training per week

~ 2-5km swim
~ 200 km cycling
~ 50-60km run
~ 600-900 throws of skittles
Our preferred sponsor
Open to sponsorship of all kinds
Advertising on equipment (jersey, clothing,
towels, sweatbands, helmet, shoes, balls, bicycle etc.)
Advertising via social media (Facebook, Instagram, etc.)

Advertising at benefit tournaments/events

Regular reports on television, the internet and newspapers
In addition, I am absolutely open to your own ideas, so that you can benefit from them to the maximum.
Sponsorship Usage
Travel costs, training costs, physiotherapy, material costs, loss of earnings (absence at work), overnight stays, equipment, participation fees, training costs, performance analyses, meals for training and competitions, etc.
Fancybox.bind("[data-fancybox]", { // Your custom options });