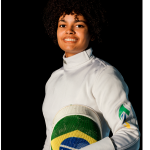 Kurzbeschreibung
Olympic athlete in Rio 2016 , Panamerican Medalist and #1 Fencer in Brazil - Foil
Beschreibung
"I was adopted, 5 months old and, immediately, I was accepted by all my family. I was a baby with a high level of subnutrition, with no strengths in my legs, calm and observer. After an intense treatment from almost two years, I was considered "cured".
I have maintained the characteristics of a calm and observer, without forgetting of my determination which was starting to appear.
I was alphabetized in Portuguese, English and afterwards in French. Then, with a full scholarship at St. Francis College, I graduated with honors .
With 9 years old, I started practicing fencing and I fell in love with the sport. Being black, daughter of a single mother and from a low financial condition, my determination grew to break bariers and one of my life goals became to win an Olympic medal, I dedicate myself immensely for that."
Unser idealer Sponsor
Looking for a partner with the same values of the athlete, that believes in dedication and values of sport. The athlete works hard to overcome obstacles in life and in piste to achieve excelence on her Road to Tokyo 2020. Any parter wich believes on this dream, will be of our extreme gratitude
Verwendungszweck
Sponsorship usage will be discussed case by case.
The Athlete participates in more than 8 tournaments internationally in all continents. Gives interview to national and international media
Reichweiten / Links
Größte Erfolge
Olympic Athlete Rio 2016
Brazilan Champion 2014 , 2016
Ranked #1 in Brazil
#6 in the world Junior 2012 - best position of a Brazilian in history
2x Pan American Games team
Bronze Pan American Championship Team 2011 and 2017
Kennzahlen für Sponsoren
The sponsor will have several couterparts that can be discussed.
The athelte will compete in tournaments all over the world every year with your support for example, Germany,France, Italy,USA,Mexico,Brasil,China,Algeria.
The logo of the brand will the exposed in all equipment (trainning,competition,travelling,interviews) in all competitions of the year. The name of the sponsor will be mentioned in all of the about 8 interviews the athlte gives yearly.
The athltee will be present in the sponsors event as well as she is open to make assemblies to motivate employees.
The logo/name of the sponsor will be in all her social media