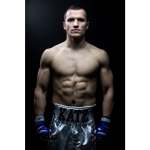 Kurzbeschreibung
Andreas Katzourakis is an undefeated (5-0, 40 KO) professional boxer from Athens, Greece. Andreas has devastating punching power and sublime speed, as well as the focus, dedication, and intelligence to become the greatest Greek boxer in history.
Beschreibung
Andreas is an absolutely exceptional individual all around. He's a focused, ultra-talented athlete as well as an extremely intelligent, dignified young man. He's an undefeated boxer that has been tough early in his young career and has passed with flying colors, knocking out 4 of his 5 opponents. Andreas, 23, is both mentally and physically strong and possesses phenomenal punching power, reflexes, and defensive abilities. He is now training with legendary trainer Abel Sanchez, the mastermind behind Gennady "GGG" Golovkin's reign at Middleweight, at the historic Summit Gym in Big Bear, California and this will take him to the next level. Andreas has all the potential to become the greatest Greek boxer in history.
Reichweiten / Links
Kennzahlen für Sponsoren
Andreas Katzourakis is widely regarded as the great combat sports athlete that Greece has to offer. As such he has received ample press across major Greek sports outlets and is building a loyal fanbase. In addition, he has served as a commentator on numerous boxing broadcasts on Greek telecasts.
We are currently fielding offers from multiple major promoters and expect Andreas to be back in the ring by mid-December.
https://www.thenationalherald.com/sports_community/arthro/undefeated_greek_boxer_andreas_katzourakis_back_in_usa-1068039/
https://www.star.gr/eidiseis/athlitika/519123/sthn-amerikh-o-ahtthtos-pygmaxos-andreas-katzoyrakhs
http://ufight.gr/boxing/1239-vomva-o-andreas-katzourakis-me-proponiti-ton-spoudaio-abel-sanchez-stoxeuei-korifi-stis-ipa.html
2,000 Instagram followers