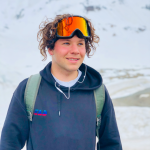 Kurzbeschreibung
Right now I'm working for my doubles on the Slopestyle Europa Cups to bring this clean and stylisch down
Beschreibung
Dear company,
First, let me introduce myself
My name is Bojan Stankovic and I am currently 26 years old
I was born in Garmisch-Partenkirchen and I live partly there.
At the moment I work as a freeski coach and ride at competitions on the Europa Cups as athlete
My hobbies are surfing, to travel, playing football, wakeboarding, diving, biking and skiing
I started freestyle skiing at the age of about 12 and am still very motivated every day!
Right now I'm working to bring my doubles flips at the Europa Cups clean and stylish down.
The goal is to participate in the World World Cup at the end of the session
I've been training this summer a lot and working on more techniques for skiing with my coache from Freeski Germany
At the moment I am working with Freeski Germany
These are my results from my past years:
https://data.fis-ski.com/dynamic/athlete-biography.html?sector=FS&competitorid=178998&type=result
On Instagram, I also like to upload my videos when I'm driving:
Bojan Stankovic (@bojan_stankovic) • Instagram
https://www.instagram.com/bojan_stankovic/?hl=de
Now a little overview about me.
My question is.
If you can work with me and support me with their equipment for freeskiing?
I will do everything to present this company from the best siede.
I will be even more motivated and I feel even better when I can drive with their material.
I would be very happy to receive an offer from you and I am available at all times
at the e-mail address:
Bojan-garmisch@gmx.de
or my mobile number:
017661485717
best regards
Bojan Stankovic