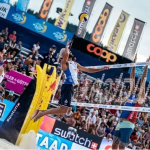 Kurzbeschreibung
National team Beachvolleyball / Italian Chanmpion / European Champion / Silver medal at Olympics 2016/ 3 times World Tour champion
Beschreibung
I made my debut in the international beach volleyball circuit in 2010 in Rome.
In 2012 I went the first time on the podium at the World tour in Beijing, China, arriving 2nd with Paolo Nicolai.
I took part in the edition of the London 2012 Olympic Games, arriving 5th, and promoting to two editions of the world championships, achieving the 9th place in Stare Jabłonki 2013 as the best result.
In 2014, together with Nicolai, I won the gold medal at the Beach Volleyball Europeans. Establishing the record of first Italian winners of European beach volleyball.
In 2016, at the Olympic Games in Rio de Janeiro, we won the silver medal.
Later, as a prize for the excellent Olympiad disputed, the chief of CONI, Malagò, nominated me as flag bearer of Italy on the closing ceremony of the XXXI Olympics.
In 2017, after arriving 3rd in Brazil and in Holland, we won the 1st place at the CEV European Beach Volleyball. Later during the Italian finals held in Catania, always paired with Nicolai, I got the nomination of the Italian champion for the 6th time.
In 2018 we reached 2nd place at the FIVB Beach Volley World Tour 2018
Now, I'm getting ready to go and win the Tokyo 2020 Olympics!
Reichweiten / Links
Größte Erfolge
2018
2nd Place: FIVB Beach Volleyball World Tour - Fort Lauderdale, Florida, USA
2017
1st Place: CEV European Beach Volleyball - Jurmala, Latvia

2nd Place: Swatch Beach Volleyball Major Series - Poreč, Croatia

3rd Place: FIVB Beach Volleyball World Tour - Den Haag, Netherlands

3rd Place: FIVB Beach Volleyball World Tour - Rio de Janeiro, Brazil
2016
2nd Place: Olympic Games - Rio de Janeiro, Brazil

1st Place: European Championships - Biel, Switzerland

1st Place: FIVB Beach Volleyball World Tour - Sochi, Russia

2nd Place: FIVB Beach Volleyball World Tour - Fuzhou, China

2nd Place: FIVB Beach Volleyball World Tour Vitoria Open - Vitoria, Brazil
2015
3rd Place: FIVB World Tour Sochi Open - Sochi, Russia
2014
2nd Place: FIVB Klagenfurt Grand Slam - Klagenfurt, Austria

1st Place: FIVB Grand Slam Shanghai - Shanghai, China
2013
3rd Place: FIVB Long Beach Grand Slam - Long Beach, California, USA
Sprachen
Dieses Profil ist in den folgenden Sprachen verfügbar:
Fancybox.bind("[data-fancybox]", { // Your custom options });