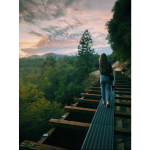 Kurzbeschreibung
I play soccer for the University of Reno. I led my team in goals and assists my Freshman year as well as earning the Newcomer Award.
Beschreibung
I grew up in the small town called Coarsegold, California. When I was younger I was always overlooked. Why? I was extremely short. I have always been underestimated, which is fine by me. I play like I am 6', 4". How? While all the other girls were over a head taller than I was, I made up for it with speed. I just recently ran the 40 yard dash in 4.93 seconds. In the 7th grade, I had a doctor write me a prescription for PediaSure mixed with the most fattening ice cream possible. He said it might help with my growth, and to my amazement, it did. I am now 5 foot 5 inches. However, a fun fact about me, my feet did not grow the same size. I grew up with one foot growing over a size larger than the other, which made getting cleats difficult. I always had to buy two pairs, which started my signature look. I always have two different pair of cleats when I play. Both my feet are the same today, however, I have kept my different colored cleats. I won't play any other way.
I am a very humble athlete, and it's sometimes difficult for me to sell myself. I make it a point not to brag about myself, however, how am I to get sponsors if I don't highlight some of my achievements. So, here it goes… I was my High School MVP Junior and Senior year. I was High School All League MVP my Junior and Senior years, Here are goals I scored with the help of my teammates during my high school years (I don't have any sound because I didn't want to break any copywrite laws):
https://youtu.be/KScv5gqKeiM- Sophomore Year
https://youtu.be/13oyjOkNZDc- Junior Year
https://youtu.be/pNYvKDfxk_M - Senior Year
My Club team won the California State Cup two years in a row, and I was honored with being player of the game both years. I also scored the game winning goal. (https://youtu.be/e67evIRFy28). I Led my Club soccer team in goals. My Club team was Ranked Nationally number one for 6 months.
I also led in goals and assists during my first years of college at the University of Reno https://nevadawolfpack.com/sports/womens-soccer/roster/emily-rich/8375.
https://www.facebook.com/NevadaWSOC/videos/3059231181025066- 1st and 2nd goal playing college.
https://youtu.be/az_oQnFyVTk- Come back from 2 - 0 and win 3-2. I had two assists.
I also had the pleasure of making the Newcomer Award for an offensive position. https://nevadawolfpack.com/news/2021/11/2/womens-soccer-rich-earns-a-spot-on-mw-all-newcomer-team.aspx?fbclid=IwAR2O7z9DQMYCyRR2Cf-y4cmdT7DyusKEknjyLp4QlgQ8F3VEFda10ihgbQ
I have even had the pleasure on being interviewed as a collegiate athlete.
https://nevadasportsnet.com/sports/wolf-pack-soccer/qa-with-nevada-soccers-freshman-energizer-bunny-and-leading-scorer-emily-rich - Interview
https://www.facebook.com/NevadaWSOC/videos/4694803533958413 – Being mic'd up
When I play soccer I want to win. I can not win games by myself. I need a team. I believe that we are currently building a team at the University of Reno that will provide us a great chance of winning. It starts with bonding. Girls that are willing to play for each other and go the distance. We can't be afraid of hard work, and hard work is what it's going to take. We have tough teams to play and we have to work harder than them.
Outside of soccer… I enjoy life. I love doing outdoor activities.
https://youtube.com/shorts/ncO13DRi3rA - Jumping of water fall in Mexico
https://youtu.be/Y5sfZt2ugig - Working out on my own during Covid
https://youtu.be/orgfqNhW7m4 - Driving my brother's go kart.
https://youtu.be/_AMKq86yuUI - Juggling outside during Covid
https://youtu.be/kXitdQVAa5M - Back flip off at my favorite camping spot.
https://youtu.be/2J2boV4QBl8 - Building a longboard.
My Talent shows:
https://youtu.be/1MIFHwgLQNI - Who's on First with my brother.
https://youtu.be/6LwKhMj844o - Juggling with my brother.
https://youtu.be/v4gitW5JSyc - Singing "Boogie with Stu" I'm jump roping.
I am really interested in receiving a sponsor. I hope you have enjoyed me sharing a part of my life through the videos I have presented. Thank you for taking the time to read my description.
Unser idealer Sponsor
I enjoy receiving products, and of course monetary gifts are always pleasing to a college student athlete. But my ideal sponsor would be with a company of which I can use their products. I want to be genuine to myself and to your product.
Reichweiten / Links
Größte Erfolge
I've worked extremely hard to get where I am today. I hope my story can inspire even just one little girl or boy to believe that dreams can come true with a little bit of grit and a whole lot of tenacity.
Kennzahlen für Sponsoren
I have a personal Instagram account with over a 1000 followers
We have a team Instagram account with over 4000 followers
We have a team Facebook account with over a 1000 followers.
Verknüpfte Profile
University of Reno

(Verein)
Fancybox.bind("[data-fancybox]", { // Your custom options });