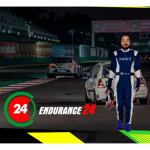 Kurzbeschreibung
Invited to Endurance 24 México with pros Felipe Gonzalez & Luis Montiel. Transitioning from amateur to pro. Seek sponsor for debut. Join my journey to success, align your brand with excellence & electrifying competition. Let's drive success together
Beschreibung
To Whom it may concern:
I am thrilled to extend to you an opportunity to be part of an exhilarating racing journey at the "Endurance 24 México" race. My name is Erick Zamudio, a passionate car enthusiast and an aspiring professional driver. I have been personally invited to compete alongside accomplished pilots Felipe Gonzalez and Luis Montiel, both veterans in various racing disciplines.
At 33, I am embarking on a remarkable transition from amateur racing to the professional circuit. With a track record in amateur races, I am eager to prove my mettle on a grander stage. This event at the prestigious Autodromo Hermanos Rodriguez presents the ideal platform for my professional debut.
The "Endurance 24 México" holds immense significance as the second most important race in Mexico, second only to the illustrious Formula 1 "Gran Premio de Mexico." Aligning with this event not only demonstrates your commitment to motorsport but also positions your brand at the forefront of an electrifying competition.
By partnering with me, you'll be associating your brand with determination, talent, and the pursuit of excellence. As a highly motivated racer, I am dedicated to showcasing exceptional driving skills, teamwork, and sportsmanship that resonates with your brand values.
I invite you to join me on this remarkable journey, contributing to the realization of a lifelong dream and the beginning of a promising career. Your sponsorship will not only fuel my race but also solidify a mutually beneficial partnership.
Let's drive success together.
Sincerely,
Erick Zamudio
Fancybox.bind("[data-fancybox]", { // Your custom options });