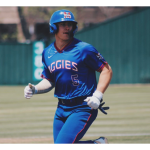 Kurzbeschreibung
3,000 instagram following, 200,000 TikTok views. Division 1 baseball. 800 Twitter followers. Played in front of roughly 200,000 fans in 2021
Beschreibung
I have been at 2 division 1 schools and 1 JUCO, played on 2 minor league style teams with thousands of fans in North Dakota and Illinois. Going to the college world series this year.
-2022 NJCAA All conference 3rd Basemen
-2022 NJCAA world series apparence
-2022 NJCAA regional champions
-2022 NJCAA Gold Glove 3rd baseman
I have lived in 15 states. I mention these because I can reach a massive and diverse audience and can help grow your company and myself. I have fantastic interaction with my following and often accidentally create a following for products without trying to. I have an art following, baseball following, and social following.
Unser idealer Sponsor
Love to receive money, in store credit, or products in return for growth of company and expansion to new customers. Love to be in partnerships with sports related companies or any company with an interest in a mutual relationship for our growth as a peron and yours as a company.
Größte Erfolge
-2018 Football State Champion
-2019 Division 1 Athlete at kent state
-2021 Expedition League Champion
-2022 NJCAA Homerun Leader
-2022 Gold Glove 3rd Baseman
-2022 NJCAA College World Series
-2022 All Conference 3rd Baseman
-2022 Division 1 Athlete Southeastern Louisiana
Kennzahlen für Sponsoren
-200,000+ tiktok views in the last year
-3,000+ instagram followers
-800 Twitter followers
-4,000 fans/game average in summer of '22 with Quincy Gems
-1,200 fans/game average in summer of '21 with Souis Valley Sabre Dogs
-1,400 fans/game average at Southeastern Louisiana Univeristy Baseball
-apparences in 10 news aticles this past year and 4 news clips